Mobile apps can boost profits if car dealerships app is used by auto dealerships. It is well known that buying cars and other vehicles are high-risk investments. A decade or so ago, customers narrowed down on some brand of car, based on-foot research. A visit to the auto dealership was considered central to a buyer's research and purchase experience. All the necessary information were provided to the buyer by sales persons via a full inventory showcase, and the test drive.
The above described method of choosing a car to buy has become increasingly difficult due to 100s of brands available in the market. But this problem (one customer versus 100s of brand) can easily be overcome through the increased use of smartphones. With nearly 50% of world population owning a smartphone, auto dealers need to leverage mobile to reach these customers. In short, through smartphones consumers research their next car purchase and the way companies market their vehicles to those consumers, significantly impacting auto dealership sales.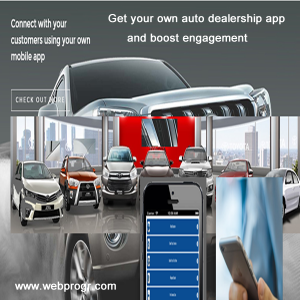 Car dealerships app empower your sales departments
Once a customer walks into a car dealership the battle is won. Still, sales teams has to play a strategic role in converting these on-site visitors into actual customers and then to your most loyal referrals. Rise in mobile usage presents various other challenges, and show rooming is one of those challenges. Show rooming means customers going online to search the most viable rate from another competitor. This causes a great deal of concern for dealership managers.
A sales department's car dealerships app can equip sales teams with competitors' inventory and pricing options, allowing sales people to compare competitors alongside the customer and offer attractive rates and valuable aftercare for the car.
A dealership's customer-facing app could include features such as:
Geo fencing to deliver location-specific content through push notifications such as limited time offers
Mobile point-of-sale to process on-site purchases and then email customer receipts instantly
Currency translator or converter
Instant and personalized level of service from the sales department will go a long way in improving customer's experience and increase the likelihood of finalising a sale, especially since the presence of a customer at a dealership already increases purchase intent by 30%.
Improving sales through follow-ups  using car dealerships app
Customer or potential customer engagement at each stage of the purchase process is a key component of a successful sales endeavor. Follow-ups during the decision making process prior to a sale will increase the chance that a customer will return to the dealership. Follow-ups conducted after sales have been the proven process to enhance customer retention and may generate referrals from happy car purchasers.
Mobile apps can help sales and service managers market directly to their existing customers with targeted, follow-up messaging such as:
If potential buyers leave the showroom without making a purchase, follow-up messaging can be made about vehicles they may have looked at or provide additional information they may have sought out while on the premises.
Provide with shoppers as they walk the showroom floor with all relevant technical information about the vehicles they are interested in
Through unobtrusive advertisements make crystal clear the discounts and promos in a cost-effective way.
Send customers notifications regarding the service requirements.
Customers should be allowed to book appointments online without having to call
Adopt any method that will make customer satisfaction near complete and ensure through mobile phone notification that your service is trustworthy.
Boost Revenue Through Vehicle Servicing
New customer acquisition costs in marketing budgets than the cost of customer retention.
Dealerships must focus their marketing budgets on keeping existing customers interested in their brand. Dealership-branded apps have the ability to allure customers again and again, especially through vehicle servicing. The service department produces a dealership's highest profit margins. Customers equipped with branded dealership mobile apps are 25% more likely to make service appointments than customers who do not download the dealer's app.
Dealer-branded car dealerships app can enable customers to:
View service hours
Book service appointments in minutes
Pay repair orders
Consult with dealer staff on services through chat functionality
View service hours
Save phone call, text, and email history
Update service profiles with every visit
What our Auto dealer app can do for you
Through the easy to use cloud dashboard, control every aspect of your car dealership mobile app, accessed through an internet browser on any computer. Use the dashboard to send messages to your customers.
Send messages in a compelling manner so that the users will read.
Email messages with the customer's name, vehicle and dealership.
Have flexibility to send messages to individual customers or larger groups such as owners of a certain make or model.
Leveraged messages with deeply integrated analytics will help dealers to know how many people have read your messages.
Through the proprietary of interface in website https://www.webprogr.com. app, dealers will be able to update any of the information inside your application and have the changes reflected instantly inside your app. We offer a completely native application that can be updated or changed instantly, making us the number one choice for mobile apps for car dealerships.
Regardless of car dealership being a single rooftop or a part of a larger group, we offer the option to include all of locations inside a group app or have each location independently branded mobile app. We streamline in such a way that the mobile app stands out alone amidst host of others.