With the advent of the digital world and its growth, their grocery stores app need to fine tune with the changing times. More and more shoppers are using their phones during their shopping experience to keep track of their grocery list, look up ingredients for recipes, and use digital coupons in their grocery stores app. It is believed that people often base their grocery shopping decisions on shops where they can get the best price on their purchase. Especially for people who love to bargain-shop (Grocery Shopping based on what's on sale that week)! For many years, grocery stores have lured customers in via the weekly circulars inserted into Sunday papers.
Using manufacturers' coupons- grocery experts save money by knowing their bottom line after coupon. Like – Smiths Weekly Ad, Albertsons Weekly Ad, Safeway Weekly Ad, Vons Weekly Ad, Ralphs Weekly ad, Frys Weekly Ad, Bashas Weekly Ad, Fred Meyer Weekly Ad, Raleys Weekly Ad, Lowe's Ad etc in addition to the usual latest store Circulars of Target, Walgreens, CVS, Rite-Aid and Wal-Mart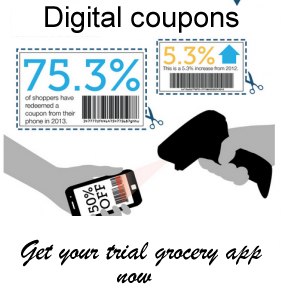 The grocery stores app with digital coupons
Successful grocery stores use this trend to its advantage by sending coupons straight to shoppers' inboxes via email and to their grocery stores app. To do so begin developing an email list by having people sign up in-store, on your mobile grocery stores app, website, and via social media. Then develop a weekly email newsletter that includes bar code coupons that can be scanned from the shopper's mobile device. This will encourage shoppers to visit your store because it is a more convenient way to save than having to clip coupons and remembering to bring them to the store.
Make sure that the grocery stores newsletter is creative by providing coupons that follow a specific theme such as a holidays (for Halloween, include coupons for hot dogs, soda, etc.) and seasonal recipes (for winter, include coupons for hot chocolate, fire logs, etc.).