2018
Doctor Appointment App | Ease Patient Appointment Scheduling for Clinics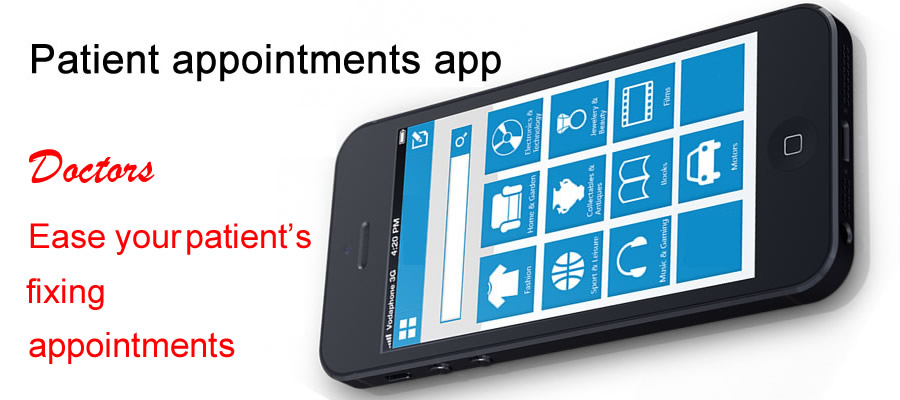 Doctor's appointments app for clinics and hospitals.
Serving as medical scribes for clinics, hospitals and doctors for years has indeed helped us. This Patient Appointments app is for the two types of patients-

1. Booking appointment for new patient
2. Booking appointment for repeat patients

For new patients:

1. You fill a mobile registration form, submit and get a confirmation number.
2. With the confirmation number make a payment to fix appointment.
3. Only after payment the appointments will be confirmed.

For repeat patients it is as follows:

1. Tap doctor's appointments button and select mode of transaction.
2. Enter your Hospital number
3. Choose your doctor and unit you have already visited.
4. Select month and date of appointment.
5. Provision for preview - Make Changes
6. Submit and receive feedback, confirmation

The Patient Appointment app is a robust healthcare solution being developed for the Android and iPhone.
The application check the availability of the resource(doctor/clinic) at website's appointment database service and fixes the appointment.
The patients can always check their status and be in contact with the hospital with one-button touch call or email.
The application also using push notifications notify the patient about health tips and reminders and promotions(!).
Patients can post their problems and get advised later.
Patients can view health tips for a healthy lifestyle.
View facilities available for surgeries.
Pill Reminder to take tablets on correct time/period.
Publish hospital news about doctors, arrival of the specialist doctors etc.
Patient can view the video of doing pertinent operations etc.
HIPAA compliant with encryption.