Cross platform app development tools
New market demand cross mobile compatible applications, so we started providing services to our clients to save their cost and time. Cross platform mobile app development tools are increasingly becoming popular each day. In a nutshell, one app for all platforms iOS, Android or Windows..
The market for enterprise-ready mobile cross platform development has begun to take-off as large and medium sized corporations are increasingly adapting to the mobile world
One of the most favorite framework for cross platform mobile development is Phonegap. It is used by many cross platform app development professionals and app development companies with great success.
Others in the list we use are as follows, many are infrastructure services that converge MADP, MBaaS, and PaaS technology.
Unity is the ultimate game development platform. Use Unity to build high-quality 3D and 2D games, deploy them across mobile, desktop, VR/AR, consoles etc
Appcelerator is an enterprise-focused development platform that lets developers write JavaScript with its Alloy MVC framework.
Corona  is not the pale lager produced by Cervecería Modelo in Mexico! But  it is the Corona SDK that builds rich mobile apps for iOS, Android, Kindle and Nook using Lua
Adobe Corporation with Phonegap Build and with Apache 's Cordova, easily the best.PhoneGap is probably the most well-known cross platform development brand within the development community.
Since the release of Xamarin 2, the company has certainly emerged as one of the leading solutions for cross-platform development.
parse can be used by any app Android, iOS or cross platform. Simplify Mobile Push Notifications. Free Unlimited Msgs To 1M users/mo. Now owned by Facebook
Offers a range of tools as part of its enterprise Mobility Platform to help business create apps from a single codebase.As they say Get to market with speed and confidence with your choice of pre-built, custom, or app accelerators.

The most powerful, yet lightest weight crash reporting solution.

World's leading ad server that lets you monetize your app with direct advertisers, your ad network partners and plug in to thousands of high quality advertisers on our ad exchange.

Amazon Cognito is a service that makes it easy to save mobile user data, such as app preferences or game state, in the AWS Cloud without writing any backend code or managing any infrastructure. Cognito offers mobile identity management and data synchronization across devices. You can save data locally on users' devices allowing your applications to work even when the devices are offline. You can also synchronize data across a user's devices so that their app experience will be consistent regardless of the device they use. With Amazon Cognito, you can focus on creating great app experiences instead of having to worry about building and managing a backend solution to handle user authentication, network state, storage, and sync. Amazon Cognito is one of the services that is part of the AWS Mobile Hub.

Appsee's mobile analytics platform provides in-depth analysis of your users' behavior, allowing you to deliver the ultimate app experience
More would be added as we try out.
Thanks
---
What your peers are reading?
26-Oct        Updating apps and IT support Systems
                by webprogr
26-OCt       Offering Superior Technology services
              By webprogr    
Curated by c3pio
Looking to build a mobile app? Do you have app ideas? Contact us  www.webprogr.com, the software development company. Mobile app development companies like ours with an experienced Android developer  or an  iOS developer can help you create an app and bring it to reality.
Try some of these best free apps below – android software download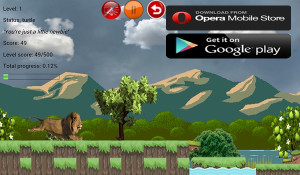 Android Applications Development   |   Mobile App Development
Tell us your project. We can give you an sample asap.
Everything you need to know about going mobile! Subscribe to our newsletter