As of now smart phones had become an extension of our hand. So, more than 80% of purchase decisions are made over the phone. Buying real estate is also no exception. Recent data reveals approximately around 75% of buyers of new property use internet and mobile search to research before they actually commit to the Real Estate agents. Further to this, the smart phone users are increasing (75%+ in US only). So beware potential buyers of property actually roam around with a search engine. These users demand to have the same information available to them while they relax.
Smart phone real estate app development and real estate website development allow real estate business to provide on the go access to their customers for the properties. Digital footprint must be integrated with geolocation services to provide users search results based on their current location.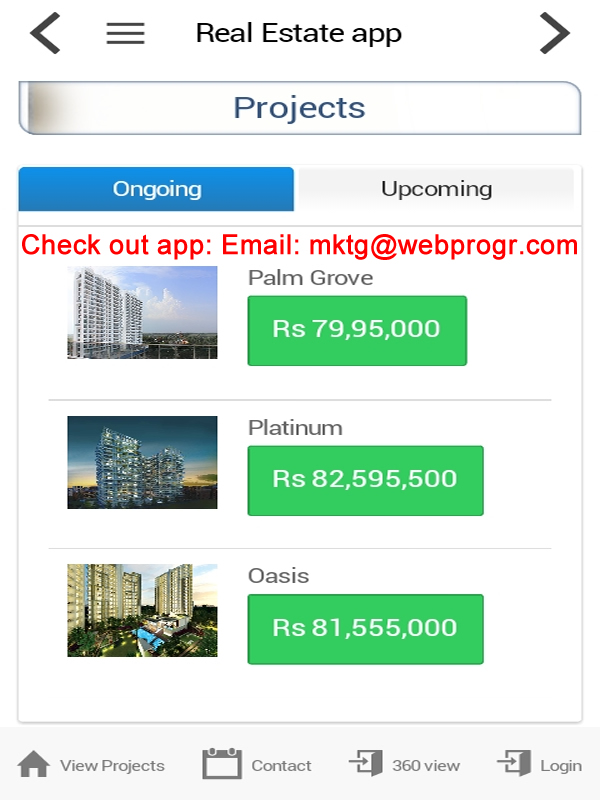 Smart phone real estate app for iOS, Android
Nowadays, people are buying smart phones for the facility of downloading app, and not just to browse we. So, it is advisable to have smart phone real estate app and a mobile website. Native apps are designed specifically for and take full advantage of the particular operating system and dynamics of your phone with features such as call/email tools, photo-displaying capabilities and GPS/geolocation technology.
Easy To Market, Easy to Distribute, Easy to Share
For realtors with their own app and website are brands by themselves in smart phones, which is communications' fastest growing medium. With in minutes the brand reaches largest group of people in the least amount of time by connecting with Facebook, Twitter, LinkedIn, and other social media sites. App code, app URL and/or QR code on your business card, website, emails are all marketing material. Mouth to ear marketing plays a big part, too, as 10% of app's users will share app with others.
All Leads Go Directly To Realtor
As a realtor, it necessary to have listing agents, aggregators and third parties with lead for property. It is unavoidable also, but with the help of app realtors can control their own leads. All calls and emails reaches directly to app. This enables to establish direct relationships with customers. In addition, all MLS listings are included to maximize leads. And with the app's analytics, one can easily track calls and emails by day, week, month and year. Smart phone app is the most Accurate and Updated Listing Information

Unlimited Downloads For Clients
Being free to download mobile app, realtors can allow any number of downloads of the app, which indirectly mean the lead is reaching greater number of people, this is where success lies. More downloads can help climb the app store rankings, helping draw increased attention to the particular app and drive more clients to your brand. In the app tell past completed projects and projects readily available for sale. Further to this clients can search for properties from anywhere in the world.
The mobile app with search and discovery technology allows user to search by neighborhood and subdivision, as well as by address, MLS number, and map.
The app other than providing real estate listings should provide powerful analytics that allow realtors to view the impact it is having on business. App should facilitate realtors, the listings people are looking at most. So that, they can extrapolate user behavior by following their app usage patterns through the easy-to-use app dashboard. In short it should not be a mere app, but it should be statistics, user information, and more.
Contents that must accompany listings in the app:
Listing Corporate programs for rentals
Community details
Nearby supermarkets, educational institutes and medical services information
Property Trends
Values and History of the Property / Land
Property listings with graphical photo galleries and videos