Usefulness of an android smart phone can be immensely enhanced by installing some very good apps. For new users, selecting good apps may be an arduous task. That is what prompted this write up. This article can be used for guidelines for selecting apps.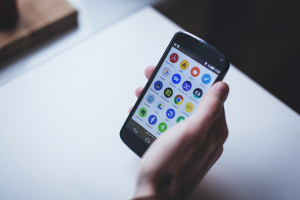 Android has been a great success story in the smartphone market because of Google play. This store has more than 1.3 million applications for apps of much variety, but how does a first timer select an app from such a vast range?
Each and every app available in Google play is unique and purposeful, but the catch here is to know how it is useful to you and your device.
We list the following best apps that are must have for your smartphone along with the following characteristics:
a. Device compatibility
b. Resource Consumption.(such as memory, CPU, data, etc.)
c. Updates
d. Data protection.
e. Performance ratings.
All the following apps are open source apps and are available at Google Play.
Mozilla Firefox
This standout open source browser's mobile version is available with a sleek interface, with various options such as switching to recent tabs, history, top sites, bookmarks, etc. Though there are may features and add-on available the following two are the most outstanding.
a. Reading List, add-on that allows to save the web pages for offline reading.
b. Save as PDF, add-on to covert the Web pages to the PDF without problem.
Telegram
This Instant Messenger was launched in 2013. It has 35 million users. Telegram is based on Cloud Platform and its aims are speed and security. Though there are so many Instant Messenger clients for Android, Telegram is the best because of the following reasons:
a. It is open source.
b. Secret Chats.
c. Self-destructing messages.
d. 200 member groups can be created.
e. Support for all file formats.
K-9 Mail
The best email app for business needs. One can receive a lot of emails with K-9. Easy to configure to the multiple accounts as per the needs of the user. It can be connected to Web services using all popular protocols such as POP3, IMAP and WebDAV.
Encryption and decryption of mail using Open PGP and APG methods is also an added feature.
GNU Cash
The best personal finances tracker. It works along with GNU Cash desktop client. So, it is easy to transfer accounts and transactions to mobile app. Its added features are:
a. One can create multiple accounts and transactions.
b. Double entry accounting with support of multiple splits.
c. Nested account hierarchy.
d. Export of transactions in OFX, QIF formats.
e. One can save transactions in Google Drive, Sky Drive, Dropbox, etc.
VLC Player
This is a open source media player for Android. Capable of playing audio and video files. This app automatically scans all the files. By using sidebar one can easily switch between audio and video players. The app has the memory and recognizes the position in which the video file last stopped and can resumes from that point on wards.
Tinfoil for Facebook
Facebook tracks users use it via cookies, so we have no option, but to use this social networking platform, because all friends and relatives use this platform and we cannot also send communications through services for all, Tinfoil for Facebook protects you by using a wrapper.
Tinfoil for Facebook does not consume much battery power, and low data consumption.
The "Duck Duck Go" search widget
Google searches are not secure and searches are given to private institutions for profit. Duck Duck Go ensure complete security and privacy of all searches. It enables the search anonymous, and it also gives the sources from which the content is collected such as Reddit, Quora, BBC, Ars Technicia, etc. There is also a provision to protect searches by integrating with Orbot. By Duck Duck Go modification of searches to specific regions, country, or area can also be achieved.
Orbot
Orbot is a TOR anonymity client/app. It protects from network surveillance. It works on both rooted and non-rooted devices. Orbot can be used only on rooted and super user access. Mere installing of Orbot does not guarantee privacy. It can work successfully only with the following apps:
a. Chat Source
b. Orweb
c. Mozilla Firefox
Users can check successful installation by using the 'Check Browser' option.
<h1>OSMOND<h1>
OSMAND-is OSM Automated Navigation Directions, an Android Ap for offline map and navigation purposes. It is sourced by Open Street Map-a huge collection of offline maps, which are provided by uses around the glob for data. One has to download maps of preference, and store in memory card for offline use.
It gives turn-by-turn voice guidance, optional lane guidance street name display and estimated time of arrival.
Note Cipher
On installation, one has to provide a password, remember one cannot change the password. Unlocked icon will be on display on opening of Note Cipher. It will be locked automatically, if the app is kept idle for a few minutes.
It employs the industry standard 256-bit AES encryption. The app cannot store data in an unencrypted state.
Just clicking share button will share your notes with others.
Patient Appointment App for Clinics and Hospitals
This App provided by Webprogr gives complete information of the health needs of the users.
Chess Winning Games 18-14
To know all about the matches played between Viswanathan Anand and Carlson. One can also play games using this app. Useful casual game to be used during travel.
 Mobile application development | Android development company India |  Cross platform mobile application development |